Discussion Starter
·
#1
·
My buddy and I spent a lot of time online searching around for a his '12 Polaris Sportsman's snorkel instructions and managed to find a guy who had made an instructional on an '08 model of same (or rather very similar) body style. We bought about half the parts and waited a few weeks before starting and after going back to his thread, we found it was no longer available! :34: So, we made do and just figured out the rest ourselves. The original post gave us a basic idea of what we needed to do though so who that guy was: thanks and all due credit, good sir! Lastly, we started taking pictures after it was a little too late to do a step by step but these instructions should be sufficient.
Without further adieu:
What you'll need:
1 1/2 in. PVC pipe (we used schedule 40 for pipe and fittings)
1 1/2 in. to 1 1/4 in. rubber couplings x3
1 1/2 in. 90 degree elbow, male to female (U-PVC! The smooth stuff <-very important!!) x1
1 1/2 in. straight rubber coupling x1
1 1/4 in. 90 degree insert elbows x2 (Picture
here
)
1 1/4 in. straight rubber couplings x2
1 1/4 in. (preferably 1") to 1 1/2 in. rubber couplings
1 1/2 in. 90 degree elbows, male to female x 3
1 1/2 in. Spa Flex Tubing flexible PVC x 8 feet (two 4' sections)
1 in. Spa Flex Tubing flexible PVC x8 feet (two 4' sections)
Plastic cutting board x1
1 in. L-brackets x4
Rubber corks x2 (Can use pretty much anything about 1 in. tall that's sturdy, you'll see why in a minute)
Misc. Hardware
A tube of silicone or "gasket maker"
Whatever tops to the stacks that you want in 1 1/2 in.
Cold beer <-also very important.
ALL
of the above items can be purchased at your local Lowes.
Process takes about a weekend.
From here on "Left" is assumed rider's left and same for "Right."
Some drilling in to the frame is required so get some metal bits.
Start by taking off all the plastics. Remove the lid from the front cargo box, you'll need it out of the way later. Remove the stock airbox snorkel from the airbox lid. Remove the CVT snorkel and the fitting from CVT housing (the one closest too you). This step is optional but we chose to go with a beefier coupling instead of the garbage that was already on there. DO NOT remove the rubber fitting from the connection behind the CVT housing, you can reuse this fitting and it's MUCH easier to leave it be! Now is also a good time to silicone up your CVT housing. It's also probably a good idea to run your vent lines up to the pod and dielectric grease all your electrical connections while the plastics are off.
We started with the CVT because it was much easier to get the hoses ran on this side. Use the UPVC 90 degree elbow in the rear coupling you left on the CVT. Just ram it in there and tighten'er down. Shove the 1 1/2" coupling over the other end and run your hoses to the front for now. The front vent is self explanatory.
With the left side finished, slide the front plastics back in to place and bolt it loosely to the frame. Cut out holes in the box where you want the hoses to come out. We ran ours closer towards the middle of the bike on both sides with a dremel (thank god for dremels).
Next was the air box... this gets a bit tricky because we've read so much about people snapping their custom airbox vents from putting weight too far forward on the seat. Well... this was fixed by those rubber corks I mentioned earlier. We got a couple and just screwed them down to the frame where they make contact with the pads on the bottom of the seat. This prevents the bottom of the seat from making any contact with the hoses or connections. This also raises up the seat slightly (which, yes it DOES leave a gap) but quite honestly we'd rather have a bit of a gap than have a broken airbox lid. If you haven't read about it... do some forum searching... it's a pain, this fixes that. To the right, you'll see how much the seat is raised.
The custom airbox lid is nothing new. Cut a piece of that cutting board down to fit over the front of the airbox. Cut holes in the cutting board and airbox lid to fit the 90 degree insert elbows and after putting silicone around the bottom of the board, bolt it to the lid. Use L brackets to secure the insert elbows and silicone all openings. It really looks more intimidating than it is.
You've gotta be creative with the 1 in. flex hosing. The stuff is tough, but it's also a pain to get it to flex. We ran a hot bath and soaked all the hoses before running them to the front box. This makes them MUCH more pliable and easy to work with. Originally we tried running 1 1/2" line, but it just wasn't cooperating. Too little space under the tank, didn't want to run lines near the exhaust and quite honestly, too little patience. I'm positive it can be done with bigger lines, but not on this build.
In the picture below we actually messed with the gear selection lever in order to find a way around the hoses getting rubbed to no avail. Finally we found a small piece of metal in the shape of an "L" bolted to the front of the frame that appeared to be serving no purpose. So... we gave it one! The metal piece (after a little hammering to straighten out a bend) fit perfectly in the space where we needed clearance for the shifter without interference from the hoses. We even reused the same screws. This little modification does NOT interfere with the plastics either, which is ideal because ramming hoses into the tiny space that's available already makes a bit of a bulge. Run your 1 inch lines to front box which should already have holes near the inner right side of the recess in the box (see above).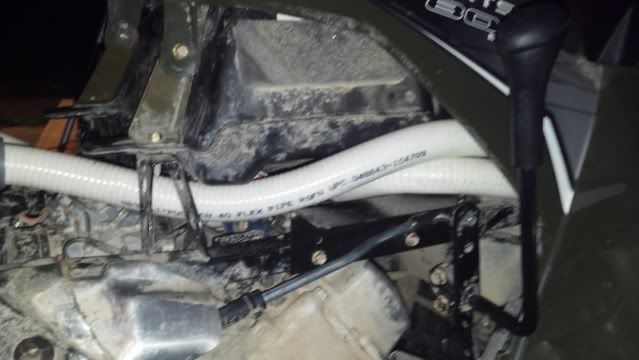 Gettin' close! Take measurements of approximate locations where you want the snorkels to be. The rubber couplings under the box are pretty forgiving in that they can be adjusted. On this model quad, you kindve have to work around the top of the shocks as they protrude in to the box a little and hamper your choices a bit on stack placement. We chose to go on the outside and stagger them a bit for simplicity. Drill through the approximate location of the snorkels' location with a small bit. Hole saws come in handy... but a dremel with a router function is MUCH handier. Do a rough in with with the router bit, and sand it with one of the little cylinder sanding wheels to melt the excess away and smooth out the edges. When you're done it'll look like the pic below: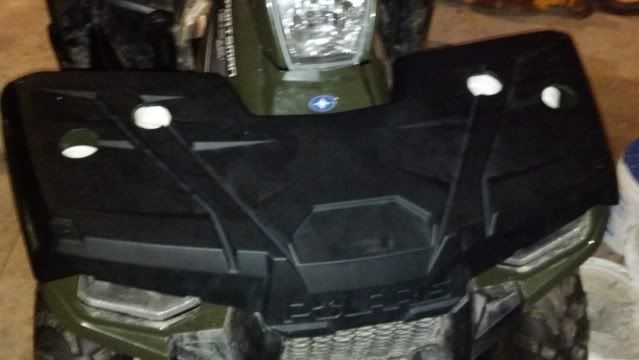 BEFORE GOING ANY FURTHER, AND BEFORE YOU FORGET: VACUUM OUT YOUR LINES WITH A SHOP VAC! You'll flinging plastic everywhere with your super awesome dremel... don't let it get sucked in to your CVT and clog up your intake!
Measure out your stacks, however tall you wanna make em. On ours the inner snorkels messed with the steering at full lock left or right so we cut it down a bit. Quite honestly though... handlebar height is pretty sufficient for the type of riding we do around here. We painted our stacks with rustoleum truck bed liner from a spray can.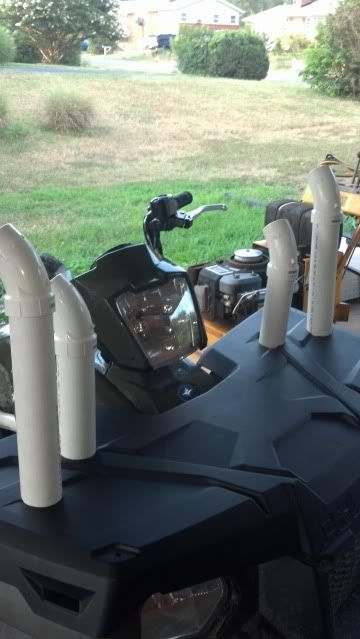 Get all the plastics back on (which on the polaris goes MUCH smoother than taking them off), clean everything off, and pick everything up. Allow all the RTV to cure then start slingin'!
***I CLAIM NO RESPONSIBILITY FOR ANY PROPERTY DAMAGE OR LOSS RESULTING IN THE UTILIZATION OF THESE INSTRUCTIONS! BY FOLLOWING THESE INSTRUCTIONS, YOU ARE DOING SO AT YOUR OWN RISK!***
:cop: ~
Bacon