i am in no way taking credit for this...jfred on highlifter wrote this up..just passin it on....
A lot of folks here lately have been asking a lot of questions concerning how to snorkle the older body style PoPo's (97-04). This is for a 500, but should work as a basis for most any Sportsman. Before I go too far into it, Triangle ATV makes a full stealth snorkel kit, but it's costly. You can give them a call and they will set you up, it comes with a full instructional DVD I believe.
Parts List
about 20 feet of 1.5 inch hose (needs to be durable and heat resistant, I would call Triangle ATV- they sell 17 feet with thier kits, but extra is always nice)
one Air box fitment piece (RDC makes one that works great)
one 2" to 1.5" reducer (for your belt cover)
one 1.5" to 1.5" rubber adapter
about 2 feet of vent tube for the carb (size depends on carb model)
RTV sealant or Silicone
Di-electric grease
Here is a basic overview of what needs to be done:
1. Extend vent lines/plug overflow
2. Spark plug grease and boot seal
3. Extend radiator overflow
4. Seal behind primary clutch
5. Seal/snorkle clutch housing
6. Snorkle airbox
6. Test it
Step 1: Extend your vent lines.
you'll have two lines from the carb, one larger one on the driver's right side, and a smaller one on the bottom. Extend the larger one up to your headlight pod, and plug the smaller one completely up. The large line is your breather line, the smaller one your gas overflow. Plugging the gas overflow will keep water from creeping in the carb, but you'll have to let it drain manually from time to time. Placing the breather line up higher will allow the carb to function and deliver the proper air/fuel mixture in deeper water. You also have a vent line going to each differential, extend them as well.
Step 2 : Ensuring Spark
Pull your spark plug out, and put di-electric grease inside of the boot. This will hold water out. Contrary to what some may think, di-electric grease is actually non-conducting, which is why it keeps water out. Just apply a good squirt into the boot. When your putting the boot back on, run a small bead of silicone around it and where it contacts the engine, as at times water can sneak in this way and cause spark issues. It's also helps to put some grease around the spark wire where it attaches to the boot.
Step 3: Radiator vent line
This step is skipped by some, but it can cause problems if it's not done. The factory radiator overflow is basically a hole in the cap of the fluid reservoir. The reservoir can be found right below the gas petcock and beside the oil dipstick/cooler. You can either makeshift your own overflow line into the factory cap, or purchase RDC's overflow (which I recommend). Doing this keeps dirty water out of your cooling system, and can keep from it overfilling and possibly rupturing or otherwise wreaking havoc.
Step 4: Seal Clutch (inner)
This step, in my opinion, is the most annoying and time consuming. If you have a Polaris belt drive, I would bet good money the seal behind the primary is worthless at keeping out water. You'll need to remove the belt cover, remove the primary clutch (you need a clutch puller), and behind that is a seal. This is where the RTV/silicone comes in handy, put the silicone all around the seal, this will keep water from seeping into your belt.
Step 5: Seal/Snorkel Belt housing
With the transmission side sealed up, now you'll need to seal the actual cover itself. Just run a handy bead of your sealant around the belt cover, and put it back on. Let it sit for a few hours to ensure it's fully sealed. You can then use the 2" to 1.5" reducer on the factory belt outtake(it's a tight fit) and run your 1.5 inch hose as you see fit. The next step is extending the factory belt intake, which runs up over your gas tank. I cut the factory intake about 5 inches short, about one inch over the bend in it, then you can attach your 1.5" to 1.5" rubber coupling, seal it up with RTV, then slide your 1.5 inch hose into it, seal it up as well and run the hose to either your front airbox or pod if your going stealth.
Here is how I cut the factory clutch intake and attached the coupling: (it's in the middle of the airbox snorkels)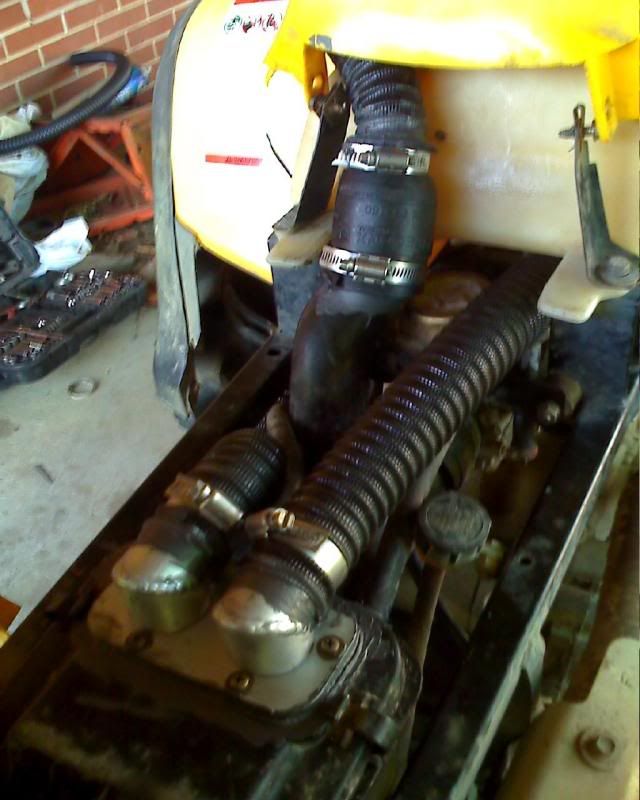 Step 6: Snorkel Airbox
I HIGHLY recommend using an airbox piece: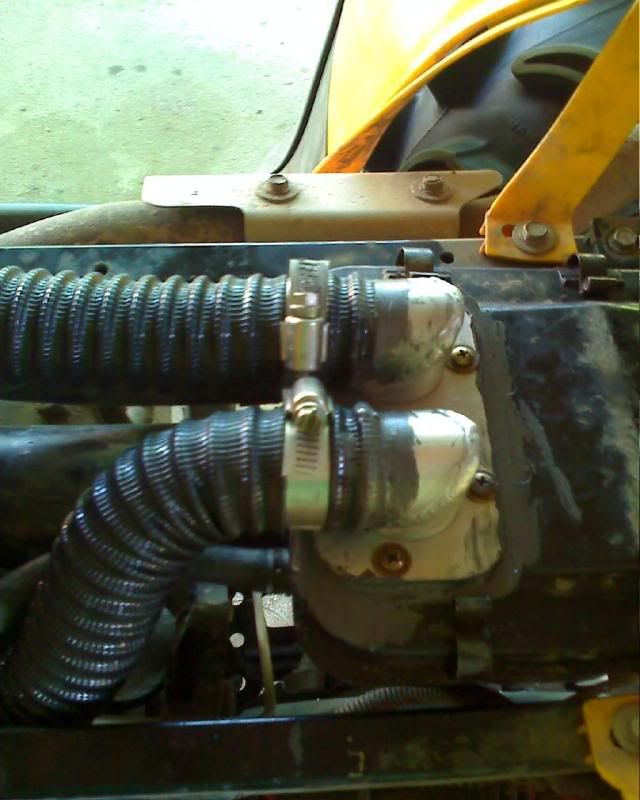 If you don't want to purchase one, you can fab up your own, or just cut holes in the factory airbox for two 1.5 inch hoses.
Attach two ends of the 1.5 inch hose you have to the airbox fittings, seal them up and hose clamp them for good measure. Run them wherever you desire. Run your sealant around the airbox fitment piece as well as the lid.
Here is how mine are ran stealth:
You can't see all 4 lines there, but they all fit.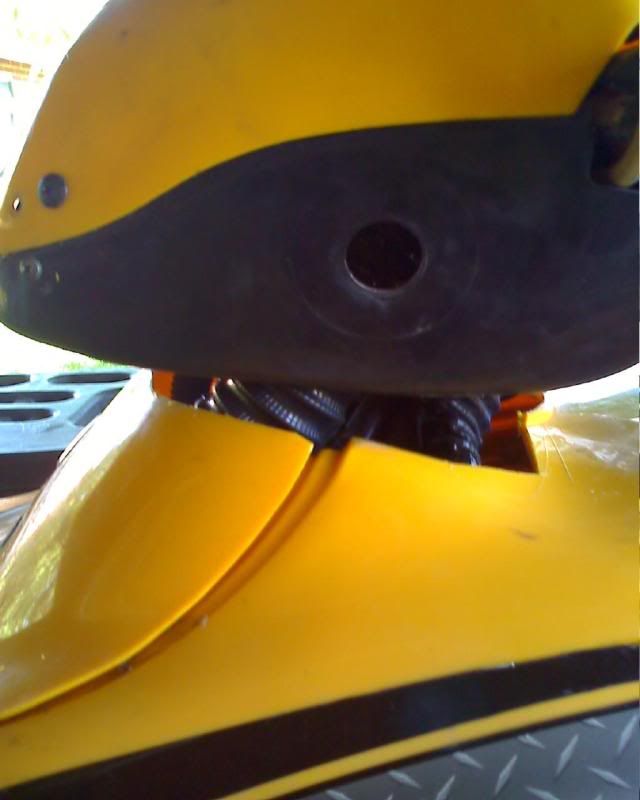 You can also run them as stacks to the front rack, I just prefer the stealth look. To go stealth, you'll have to cut the headlight pod as well as some of the plastic under it, and move the 12v power supply from the pod. It's absolutely worth it in my opinion..
Once you have the vent lines extended, carb overflow plugged, radiator overflow, spark plug greased, boot sealed, clutch sealed and airbox sealed, all you have to worry about is where/how to actually run your snorkels.
And if you go the stealth look, you won't even have to worry about the aesthetics of it: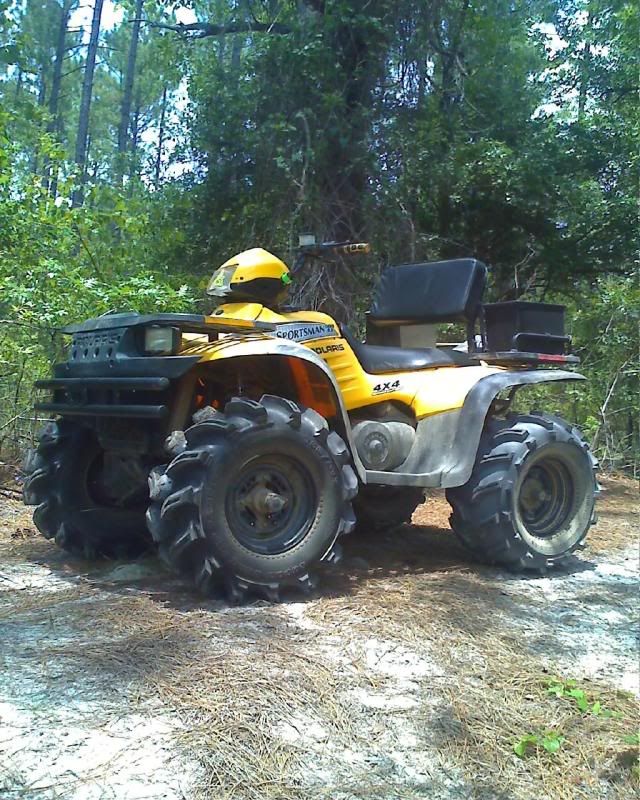 If you need more pics or assistance, let me know, I'll be glad to help. Id also like other people's input, as they may have better insight to a particular step.​