Discussion Starter
·
#1
·
In an attempt to get my fan back working I realized we did not have any how to's on this topic so here goes my attempt to maybe help someone with this issue in the future. Sorry the pictures were taken as an afterthought but should be pretty clear.
All current brutes 05-12 Carb and EFI have a small breaker in the fan circuit. These breakers tend to corrode, stop working, or have the prongs break off. You can eliminate this issue by replacing it with an in line fuse.
The breaker can be found just behind the solenoid switch. There should be a white wire and a blue wire with white stripe going to it. As you can see my white wire broke off.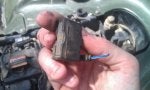 Given the harsh electrical conditions most of us put our bikes through with all the mud and water I decided to replace mine with a weather resistant fuse holder I could seal up and had a light if it blows. EasyID by Bussman part# BP/ATM-FHID.
Disconnect your positive battery cable before working on the breaker as it has power even with the key off. Simply cut the two wires that went to the breaker and connect them to your fuse holder. I chose to use butt connectors with heat shrink ends built in but they can be done however you want as long as it has a solid connection.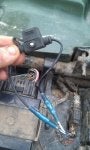 The original breaker is a 10 amp breaker so put a 10 amp fuse back in the holder. You can now test it and see if it works. If you already have a manual fan switch it will be much easier to test. Here is a link for the different setups:
MudInMyBlood Forums - View Single Post - Radiator Fan Switch (Just one more version)
Once you know everything works I recommend sealing the holder to prevent and future corrosion issues with the fuse. I opened the holder and put silicone around it then closed the top and smeared it around the edges.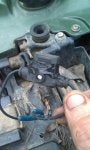 Note: The fuse holder I chose uses ATM type fuses not the ATC type that are in the fuse block already. I couldn't find one that carried ATC fuses that was weather resistant when I went to buy mine. Using an ATC one would be better since that would keep all your fuses the same type for easy sparing and field fixes.