I removed the upper plastics to expose the air intake on top of the breather box.
After taking off the intake, I used it as a template to cut a plate out of 16 gauge metal. I drilled out the center with a 1" hole saw.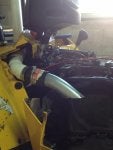 I went to the auto parts store and bought a 1.5" piece of tail pipe (the very end piece with the bevel on it) I cut this down with a chop saw, so that it would fit under the plastics. This took some time and patience. After getting that done, I fabbed up the rest of the snorkle with some 1.5" pvc fittings and some straight pieces. After making sure that it would fit and marking the fittings, I glued them all together.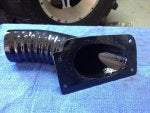 I took the plate and piece of tail pipe to a buddy of mine and had him weld it together. After that I grinded out the center of the plate to match the pipe for the air flow and slapped some black rust-oleum on it. Then I bolted it on to the breather box with some Right stuff gasket to seal it.
I attached the intake and the pvc together with a 1.5" rubber boot. I used the U shaped piece of a 1.5" pee trap to make the top end of the snorkle and attached it with the same 1.5" rubber boot.
While I had the breather box out I extended the breather tube for the carb to the handle bars.